It's Friday Friday Friday!!! TGIF!!! I am so looking forward to spending a relaxing weekend at home with my hubby and the girls! We may even go get some pumpkins now that October is officially here! Let me recap my weekly favorites for you!
1. Passing my 1 Hour Glucose Test
If you've had a baby, you know what this test is...the doctor makes you drink an awful drink
***seriously it's sugar why can't they make it taste better***
And then an hour later they draw your blood to check your levels and see if you have gestational diabetes (which is just diabetes caused by the pregnancy). If you fail you have to take a three hour test. And if you fail that one they you have to go on a special diet for the remainder of the pregnancy! Yesterday morning I got a wonderful phone call from a nurse at my doctor's office telling me that I PASSED!!!!! Praise the Lord! I felt so dizzy and light-headed during that hour that I cannot imagine all those poor women who have to go back in for the three hour test. The things we go through for these precious babies! That drink right there has 50 grams of sugar in it...I don't know why you can't just drink soda (because at least that would taste better).
2. Lacie's Ladybug Duffle Bag
Lacie got this bag as a gift for her second birthday, and it has become the perfect bag for dance class! This bag was made for Lacie because we've called her LacieBug or Buggy since she was in utero and we decided on her name! She just loves carrying a bag around like a "grown-up"! This bag would also be the perfect little duffle if she were going to a sleepover at the Grandparents or for when she goes to preschool! We also have the matching backpack!
Personalized LadyBug Duffle Bag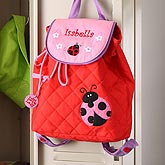 Personalized LadyBug Backpack
3. Crockpot Mexican Tortilla Soup
I shared this recipe on Monday, and it is definitely going to be a new favorite! This recipe was loved by all four members of the Hilosky Family and it was seriously so easy to make since the crockpot did all of the work! I absolutely love love love having dinner in the crockpot because it makes my day so much better just knowing that I do not need to worry about dinner!
4. THIRD TRIMESTER
Oh boy did I smile when I got this update in my "What to Expect" pregnancy app this morning! I am officially in my third trimester with only 12 weeks to go (which in my case will probably be more like 11 weeks since I need to have a repeat c-section). I'm in the final home stretch now! And I have to tell you, Paisley is feeling much bigger than 2.5 pounds - and she probably is since both girls were big babies!
Linking Up over at Momfessionals! and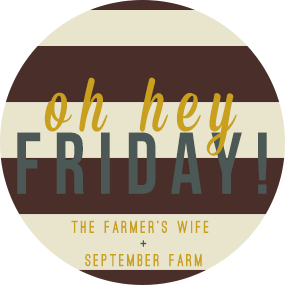 What were your favorites this week?